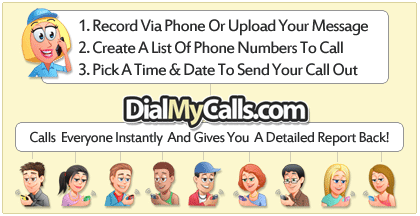 Immediately after I signed up for the edublog challenge I began to check out some other blogs that teachers have posted and came across the blog Digitally Create .   Many of the tools listed, I had tried or at least heard of at some point….but I was intrigued when I came across her post for Dialmycalls.com.
This excellent new tool allows you to set up a recording to send out to a group of people.  This service is free for a limited account (allows you 1 free group call to 25 people per week with a max. recordingtime of 30 seconds).  You could pay for a premium subscription, however…I don't make a ton so I try to push the free resources as much as possible.
Anyway, I set up a recording to my parents asking them to contact me via email and leave their child's name, current email, and best # & time to reach them….it was such an easy process & I could monitor the progress of whether the calls were successful, if they were delivered to a live person or voice mail, and even resend the call if I felt it were necessary.
2 parents have contacted me so far and i'm hoping for more in the next couple of days.
Give this website a spin and save some time while touching base with parents & guardians….the key to student success 🙂
Categories: Technology